"Disrupting the Canon" at NCECA (March 17, 2021 4:45-6:15pm)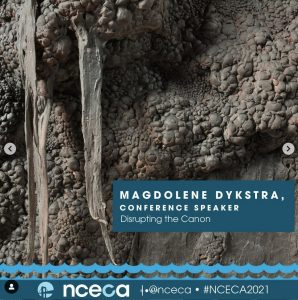 This panel discussion highlights the work of four women whose practices take a critical look at our inherited narratives. Natalia Arbelaez, Magdolene Dykstra, Habiba El-Sayed and Heidi McKenzie celebrate women of color and the roles that they play, while also reminding us of how we have been systematically left out.
Register by March 1 for NCECA's limited offer COVID Response Rate ($50 for access to Conference from March 17-21, 2021)
Community Painting
Presented by Suitcase in Point at Niagara Artists Centre
Saturday 8 August 12pm-3pm


Coinciding with the release of Freedom: A Community Mixtape, produced by Suitcase in Point, on Saturday 8 August 2020, Magdolene Dykstra invites members of the Niagara community to join her in asserting their persistent humanity by making their mark (their fingerprint) on a community painting at the Niagara Artists Centre. Freedom: A Mixtape will played as the event soundtrack.
Visit Suitcase in Point to learn more about Freedom: A Mixtape.
Visit the NAC website to learn more about the community painting.
It was my pleasure to talk with Sequoia Miller, Chief Curator of the Gardiner Museum. We talked about three of my artworks, including the installation at the Gardiner Museum as part of RAW.
Leah Collins wrote a thoughtful piece on my installation at the Gardiner Museum. We talked about how strange it is to have made an installation that imagines a spreading infection, just before COVID19 took over the world.
Disrupting the Canon in Studio Potter
I wrote this article with Natalia Arbelaez, Habiba El-Sayed, and Heidi McKenzie. In it we draw attention to the art world's ongoing tendency to marginalize artists who do not fit a Eurocentric, male, heteronormative worldview. More importantly we talk about how each of us uses our artwork to disrupt this pattern.
RAW at the Gardiner Museum (Mar.5 – Oct.25, 2020)
"Raw clay is emerging as a compelling medium for contemporary art, taking on new relevance as conversations around identity, visibility, and survival on our planet develop. From sticky and wet to dry and powdery, raw clay speaks to primal themes like the land, the body, and memory. Perhaps most significantly, clay reaffirms our essential connection to the earth. As digital screens come to dominate our vision and disconnect us from an increasingly threatened environment, clay takes on a critical role in resisting our withdrawal into the virtual.
Four new installations by leading artists working with unfired clay—Cassils, Magdolene Dykstra, Azza El Siddique, and Linda Swanson—invite you to discover new possibilities in an ancient medium. The artworks on display are all in flux and will transform throughout the exhibition."
Interview on Something (rather than nothing)
Enjoy the stimulating conversation I had with Ken Volante on his podcast. Listen on Spotify, Apple podcasts, or Podbean!